Pointed aryballos decorated with compass-drawn scales highlighted with purple dots.

Tongue pattern down the shoulder, above the foot and on the flattened rim. Zig-zag decoration on the strap handle.

For a related, less pointed vase, cf. British Museum inv. no. 1860,0201.27.

Fine condition. Intact with peeled off areas on the applied glaze.
H. 10.8 cm (4.3 in)

Ex South German private collection, since the 1970s.

850 USD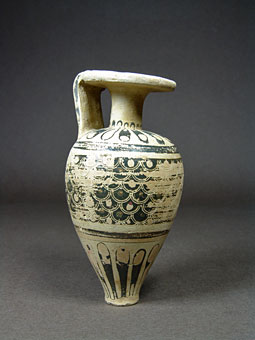 Click above for larger pictures --------